Farmers
Price
Engine
Model
Flywheel
Housing
Continuous
HP Rating
Call for Price ($)
454 Chevrolet - V-8
Drive Plate
W48 & W71
200-225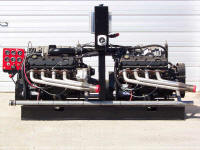 The engine assembly equipped with 6" channel frame, surge tank, 425 natural gas carburetor, air cleaner and cover,1" gas pipe for carburetor, drive plate w/W48 and W61 bolt pattern, electronic ignition, red instrument panel, AMP meter, dual safety oil pressure gauge, dual safety water temperature gauge, L-150 Murphy safety low water gauge, dual sight oil gauge with drain hoses, starter switch, reset button, heavy duty throttle cable, alternator, voltage regulator, starter, headers with front exit, high-heat plug wires, battery cables, lower stand , hour meter.

THIS ENGINE IS A NEW STATIONARY SPARK-IGNITION ENGINE THAT IS NON-CERTIFIED!
AS THE OWNER/OPERATOR OF A NEW, NON-CERTIFIED STATIONARY SPARK-IGNITION ENGINE, THE U.S. ENVIRONMENTAL PROTECTION AGENCY REQUIRES YOU TO TAKE SPECIFIC STEPS TO ENSURE COMPLIANCE WITH RECENTLY ENACTED FEDERAL EMISSION CONTROL REGULATIONS.
CONTINUOUS HORSEPOWER CHART
Gear Ratio
4:3
Engine RPM
2346
Nat Gas Fuel
200
CONTINUOUS HORSEPOWER FIGURES ARE GOOD TO AT LEAST 3400' ELEVATION @110 DEGREES F