Sales &
Service Office
202 W. Missouri
Floydada, Texas
79235-2799

806.983.3774 (P)
806.983.3776 (F)
E-mail: sales
CHEVROLET 262- 4.3L ENGINE
Farmers
Price
Engine
Model
Flywheel
Housing
Continuous
HP Rating
Call for Price ($)
262 4.3 L Chevrolet - V6
Driveplate
40-72
Call for Price ($)
PTO w/41 Flange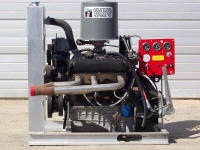 The engine assembly equipped with frame, surge tank, natural gas carburetion, air cleaner and cover, 1" gas pipe for carburetor, heavy duty PTO with W41 flange, electronic ignition, red instrument panel, AMP meter, safety oil pressure gauge, safety water temperature gauge, sight oil gauge with drain hose, starter switch, reset button, throttle control, alternator, voltage regulator, starter, headers with front exit, high-heat plug wires, battery cables.

THIS ENGINE IS A NEW STATIONARY SPARK-IGNITION ENGINE THAT IS NON-CERTIFIED!
AS THE OWNER/OPERATOR OF A NEW, NON-CERTIFIED STATIONARY SPARK-IGNITION ENGINE, THE U.S. ENVIRONMENTAL PROTECTION AGENCY REQUIRES YOU TO TAKE SPECIFIC STEPS TO ENSURE COMPLIANCE WITH RECENTLY ENACTED FEDERAL EMISSION CONTROL REGULATIONS.
CONTINUOUS HORSEPOWER CHART
Gear Ratio
10:11
1:1
11:10
6:5
5:4
4:3
3:2
Engine RPM
1584
1760
1956
2112
2200
2346
2640
Natural Gas Fuel
40
46
51
55
58
61
72
CONTINUOUS HORSEPOWER FIGURES ARE GOOD TO AT LEAST 3400' ELEVATION @110 DEGREES F
Copyright 2001-2017 Don Hardy Fuel Efficient Engines - All rights reserved